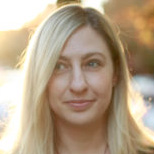 Join relationship expert Meredith Goldstein for a post-show conversation discussing love and dating and her take on
Midvale.
After joining us for
Intimate Exchanges
earlier this year, Meredith will give her take on Tom and Bettina's flirtation and their lifelong journey balancing their passions.
Meredith Goldstein is an advice columnist and entertainment reporter for 
The Boston Globe
. Her advice column, 
Love Letters
, is a daily dispatch of wisdom for the lovelorn that has been running online and in the paper for eight years. In 2018 she'll release two books: 
Am
I
Doing
It
Wrong
, a memoir about writing an advice column (Grand Central), and 
Chemistry Lessons
 (Houghton Mifflin Harcourt), a young adult novel about a young woman who tries to use science to manipulate her love life. Her first novel, 
The Singles
 (2012), was about a group of dateless guests at a wedding.