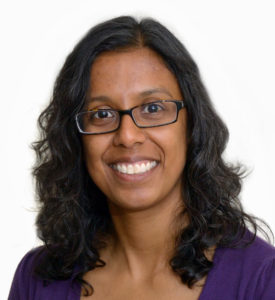 Join us after the show on Friday, March 17, 2017 for a discussion on genetics and cultural competency with Dr. Shoumita Dasgupta, Director of Graduate Studies, Genetics and Genomics at Boston University.
Shoumita Dasgupta received her B.S. in Biology from the Massachusetts Institute of Technology and her Ph.D. from UCSF. Dr. Dasgupta classically trained in the basic sciences with research foci on the molecular genetic basis of a childhood cancer and subsequently on understanding the interplay between the processes of endocytosis and exocytosis in the neuron.
As an undergraduate, Dr. Dasgupta developed a strong interest in education and participated in teaching biology to MIT undergrads in both traditional (large lecture-format) and non-traditional (alternative-track) environments. After graduating from MIT and while she was conducting her dissertation research, her long-standing interest in education grew, and she began to concurrently pursue teaching opportunities in higher education. During this period, she served as a Teaching Fellow at UCSF, teaching in both the UCSF Medical School and Dental School, as well as Skyline College's biology department.
After completing her Ph.D., Dr. Dasgupta moved to Boston University's School of Medicine to develop an educational program in genetics and genomics that was new for the school. She was attracted to BUSM because it allowed her to focus on her professional interests in education and mentoring within a diverse learning environment. In the programs and courses she has developed, she strives to teach students to apply the approaches of classical genetics and modern genomics to biomedical research and clinical practice.
Towards this end, Professor Dasgupta has been teaching both graduate and medical students on campus. She is the course director for the Medical Genetics course, which is required for all first year medical students. Dr. Dasgupta is also the Graduate Program Director for the Ph.D. Program in Genetics and Genomics and the co-director of the Foundations in Biomedical Sciences core doctoral curriculum. She is also a member of the leadership team for the Principles Integrating Science and Medicine (PrISM) curriculum for first year medical students.
In addition to her important roles in our educational programs, Professor Dasgupta has presented and published in national and international venues on innovative teaching approaches in genetics and on cultural competency education through the basic science curriculum. She has developed a focus on cultural competency where these critical discussions are integrated into the context of the relevant basic science that is the foundation for health care disparities that emerge in the clinic. Specifically, her ongoing projects aim to raise the level of scientific discussion in the classroom on the complex relationship between genetics and race, to introduce students to genetic issues of importance to the LGBT community, and to explore the influence of future providers' values and biases on potential clinical decision-making by patients.
Professor Dasgupta also serves as an Assistant Dean of Admissions and enjoys having the opportunity to work with students from their interview day to their graduation day and beyond.
When Dr. Dasgupta is not thinking about DNA, she enjoys reading literature (Extremely Loud and Incredibly Close, Life of Pi, Unaccustomed Earth, Tell the Wolves I'm Home, The Buddha in the Attic, and Swamplandia! are a few favorites) and spending time with her two young daughters.
Personal website: http://genetics.bumc.bu.edu/people/faculty/dasgupta.htm