Decade of Discovery Gala
A Celebration of the 10th Anniversary of Catalyst Collaborative@MIT
PLEASE NOTE: THIS EVENT IS SOLD OUT.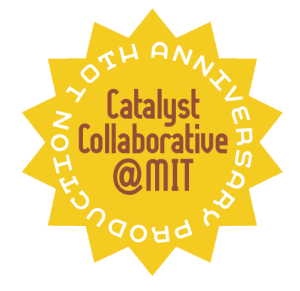 The Catalyst Collaborative @MIT Advisory Committee and the Boards of Central Square Theater and its Resident Companies on Tuesday, March 10, 2015 will honor 10 years of groundbreaking science on stage.  Together we applaud this vibrant convergence of art and science and envision our next 10 years.
6:00P.M. RECEPTION: Culinary discoveries from Vialé, libations and toasts.
7:30P.M. EXCLUSIVE PERFORMANCES: with special guest appearances by Boston's Top Actors and Award-Winning Scientists including Emery Brown, Alan Guth, Alan Lightman, Andrea Smidler, and more!
POST PERFORMANCE: Dessert, Coffee, and Conversation with Scientists and Artists.
To be added to our wait list, please contact Maggie Moore Abdow, Development Manager, at mma@centralsquaretheater.org or 617-576-9278 ext.208
About Catalyst Collaborative@MIT
Catalyst Collaborative@MIT, a collaboration between Central Square Theater and MIT is the nation's only ongoing partnership between a professional theater company and a world-class research institution. Each season, CC@MIT pries open the door between art and science and pushes us to expand our horizons with plays framed by real-time encounters with scientists who are changing our world.
Host Committees
Catalyst Collaborative @MIT Advisory Committee
Co-Directors
Alan Brody: Playwright, Professor of Theater, MIT
Alan Lightman: Author, Physicist, Professor of the Practice of Humanities, MIT
Janet Sonenberg: Professor, Theater Arts, MIT
Debra Wise: Artistic Director, Underground Railway Theater
Advisory Committee
Philip Khoury (Chair): Associate Provost, Ford International Professor of History, MIT
Claude Canizares: Vice President, MIT
Robert Desimone: Director, McGovern Institute for Brain Research, Doris and Don Berkey Professor, Dept. of Brain and Cognitive Sciences, MIT
John Durant: Director, MIT Museum
Jerome Friedman: Physics Emeritus Physics, MIT, 1990 Nobel Laureate
Lee Mikeska Gardner: Artistic Director, The Nora Theatre Company
Owen Gingerich: Professor Emeritus of Astronomy & History of Science, Harvard
Alan Guth: Weisskopf Professor of Physics, MacVicar Faculty Fellow, MIT
Nancy Hopkins: Amgen, Inc. Professor of Biology, MIT
Robert L. Jaffe: Professor of Physics, Otto and Jane Morningstar Professor of Science, MIT
David Kaiser: Germeshusen Professor of History of Science, Senior Lecturer, Dept. of Physics, Dept. Head, Program in Science, Technology, and Society, MIT
Leila Kinney: Executive Director of Arts Initiatives and the Center for Art, Science, & Technology, MIT
Natalie Kuldell: Instructor of Biological Engineering, MIT, Coalition for the Public Understanding of Science (COPUS)
Susan Lindquist: Member, Whitehead Institute and Professor of Biology, MIT
Irene Porro: Director, Christa Corrigan McAuliffe Center for Education and Teaching Excellence, Framingham State University
Robert Scanlan: Professor of the Practice of Theatre, Harvard University
Kate Snodgrass: Artistic Director, Boston Playwrights' Theatre
Dava Sobel: Science Writer
Melanie Wallace: Senior Series Producer, NOVA WGBH TV
Jason Weeks: Executive Director, Cambridge Arts Council
Honorary Member:
Eric Lander: Professor of Biology,Professor of Systems Biology, Harvard Medical School, Founding Director, The Broad Institute of MIT
Central Square Theater Board of Directors
Dr. Martin Blatt, president; Allison Coleman, treasurer; Susan Holtzman, clerk; Members: Betsy Groban, Mary C. Huntington, Breton Leone-Quick, Linda Lipkin, Lee Mikeska Gardner, Jane Minasian, Carolyn Mugar, Laura Roberts, Debra Wise 

Underground Railway Theater 
Downing Cless, chair; Jim Kaufman, treasurer; Debra Wise, clerk; Members: Betsy Bard, Jim Kaufman, Barbara Lewis, C. Brandon Ogbunu, Melanie Wallace; Honorary Board: Keith Lockhart, Wes Sanders; Advisory Board: Rosie Amador, Linda Nathan
The Nora Theatre Company 
Susan Holtzman, chair; Mary C. Huntington, president; Noreen Hurley, treasurer; Members: Mary Dill, Rakel Meir, Lee Mikeska Gardner, Liza Rutenbeck
Cambridge Savings Bank
Wayne Patenaude, President and Chief Executive Officer