Join us on May 25 or May 26 for Youth Underground's production of Act Up & Vote!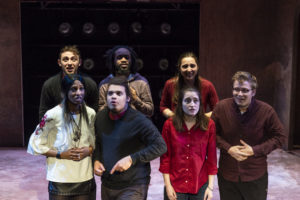 Youth Underground is an ensemble that creates and performs original theater that investigates social issues relevant to young people. Our pieces are created through a series of interviews with the community. Last summer, our interviews centered around Voting and Civic Engagement, and Act Up & Vote! was born.
Hear the voices of urban youth in our community, as well as their families, teachers, political leaders, and personal heroes as they share stories from their lives, debate about whether their votes matter, and work to make a better world.
Presented by the YU Ambassadors
Featuring performances by the YU Delegates
Sat May 25 at 7 PM
Sun May 26 at 3 PM
Youth Underground on Tour!
Interested in bringing
Act Up & Vote!
to your school or community?
Contact us!
We are taking reservations now for 2019-2020.
Writer
Director