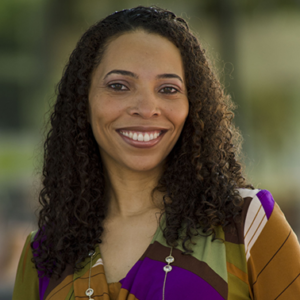 Join us directly following the 7:30 PM performance of Paradise for a conversation with Eboney Hearn, the Executive Director of Engineering Outreach Programs at MIT. Eboney Hearn deals daily with students who have similar dreams and similar face challenges as Yasmeen, Paradise's brave protagonist. Come hear her perspective on how the story in the play connects with students' real lives.
Prior to her role as the Executive Director of the MIT Office of Engineering Programs, Eboney Hearn served as Assistant Dean for Graduate Education, Diversity Initiatives  at the Office of the Dean for Graduate Education (ODGE) from 2014-2016 and as Program Director, Diversity Initiative at the Broad Institute from 2008-2014. In both roles she provided strategic direction, keen insight, and coordination to increase student diversity and academic success at all levels.
At ODGE she oversaw retention and recruitment efforts of underrepresented minority graduate students, staff training, budget management, and in collaboration with the foundation relations and development offices, secured contributions to support existing efforts and to create new ones such as the University Center for Exemplary Mentoring at MIT. Eboney has also served on a variety of MIT-wide committees and working groups, including the Committee on Race and Diversity; Mind, Hand, and Heart Academic Environment; and Martin Luther King, Jr. Day planning.
At Broad, she heightened the visibility of diversity training programs (that served audiences from high school students to faculty), collaborated with HR and academic affairs to lead efforts addressing the professional development needs of women, to implement and evaluate a mentoring program for scientists, and to create a seminar series to prepare Broad research technicians to pursue graduate degrees in STEM and medicine.
Prior to coming to MIT, Eboney was a mathematics teacher at public middle- and high schools in Boston for five years and was a manufacturing engineer at IBM, where she led several manufacturing processes in circuit board printing and co-patented a novel photolithography process. In addition to her undergraduate degree in Chemical Engineering from MIT, she earned an Ed.M. from Harvard University in 2004. Outside of her work life, she enjoys being the mother of an active and curious toddler, spending quality time with family and friends, traveling, skiing and salsa dancing.