The Women Who Mapped the Stars
directed by Jessica Ernst
stage managed by Naomi Ibasitas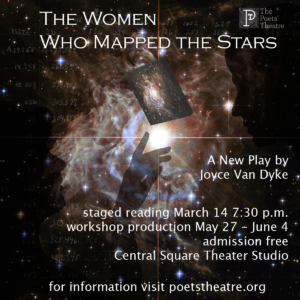 Starring: 
Mina: Becca Lewis
Antonia: Bridgette Hayes
Henrietta: Sarah Oakes Muirhead*
Annie: Christine Hamel*
Cecilia: Caroline Lawton*
Stage Directions read by Lee Mikeska Gardner*
*Appearing courtesy of Actors' Equity Association
The untold story of the women who shone a new light on the universe.
Treat yourself to a sneak peek of a collaboration between the Nora Theatre Company and Poet's Theatre, directed by Poet Theatre's Artistic Associate Jessica Ernst.
The Women Who Mapped the Stars is a new play by Joyce Van Dyke that shares the untold story of the women who showed us that the universe is larger than we ever dreamed.
In the late 19th and early 20th centuries, Harvard College Observatory employed a staff of "computers" – women employed for half a man's salary to analyze photographs of starlight and catalogue stars according to their brightness. Five women in particular made discoveries that changed the way astronomers saw the universe – Williamina Fleming, Antonia Maury, Annie Jump Cannon, Henrietta Swan Leavitt, and Cecilia Payne.
The Women Who Mapped The Stars is their story, beginning with Fleming, a Scottish housekeeper abandoned by her husband, who works with Maury, Cannon, and Leavitt as they gather the data and make the discoveries that will lead us to a larger universe — to Payne, a brilliant astronomer from a new generation who builds on her predecessors' work and achieves previously impossible advances, both in science and as a woman in professional astronomy.
The trail blazed by these women astronomers from obscurity to recognition parallels the incredible leaps and bounds made in astronomy and astrophysics during the same period.
The Women Who Mapped the Stars is a personal story of five remarkable women, and a universal story of the relay race of scientific inquiry from scientist to scientist and generation to generation, toward ever greater light and truth.  
Don't forget to mark your calendars for the next step on the journey – a fully-staged workshop production, running in the Studio from 5/27/17-6/4/17!
This rehearsed reading is part of the Nora Theatre Company's That's What She Said: A Feminine Perspective series.
WAITING LIST:
A waiting list for this staged reading has been created. Patrons will be added to the RSVP list from the waiting list on a first-come, first-served basis. Patrons who aren't in line 20 minutes before the event, to be checked in prior to the event, may have their tickets released to people waiting.