The Women Who Mapped the Stars
directed by Jessica Ernst
stage managed by Naomi Ibasitas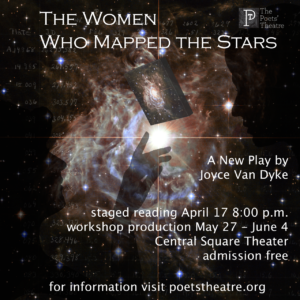 Starring: 
Mina: Becca Lewis
Antonia: Bridgette Hayes
Henrietta: Sarah Oakes Muirhead*
Annie: Christine Hamel*
Cecilia: Caroline Lawton*
Stage Directions read by Lee Mikeska Gardner*
*Appearing courtesy of Actors' Equity Association
The untold story of the women who shone a new light on the universe.
Treat yourself to a sneak peek of a collaboration between the Nora Theatre Company and Poet's Theatre, directed by Poet Theatre's Artistic Associate Jessica Ernst.  The Women Who Mapped The Stars will be part of our 2017-18 Season.
Late 1800s, Harvard College Observatory. "Computers" – women employed for half a man's salary to analyze astronomic data — show us that the universe is larger than we ever dreamed. The thrilling story of five women who changed the way astronomers saw the universe – from scientist to scientist and generation to generation. The Women Who Mapped the Stars, a world premiere by Joyce Van Dyke, is the untold story of brave women in science who paved the way for previously impossible advances in astronomy.
This rehearsed reading is part of the Nora Theatre Company's That's What She Said: A Feminine Perspective series.