A Disappearing Number is SOLD OUT.
If you would like to join a wait list for tickets, please arrive at the box office one hour before the performance.
In 1913 a clerk in rural India, Ramanujan, sends a letter to the renowned Cambridge mathematician, G.H. Hardy, containing an extraordinary series of theorems. What ensues is a legendary, intellectually passionate, seven-year collaboration. Interwoven with the present-day story of Ruth, a British math professor, and her husband, an Indian-American businessman. Drama, comedy, Indian dance and music weave an immersive experience the New York Times called "mesmerizing", a love-story that combines the clashes of culture, the sensuality of ideas, while illuminating the mystery of mathematics. A Disappearing Number received the 2007 Olivier, Evening Standard, and Critic's Circle Theatre Awards for Best New Play. A Disappearing Number is partly Inspired by G. H. Hardy's book A Mathematician's Apology.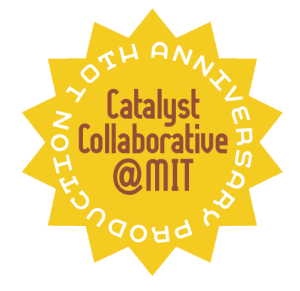 A Catalyst Collaborative@MIT 10th Anniversary Production
Reviews
"

Evokes and exemplifies the pleasure of discovering the vital connections between theory and reality, past and present, and the lives of human beings.

"
— New York Times
"

Everything adds up beautifully in Complicite's exquisite meditation on maths, love, grief and the way the past is linked to the future and the living to the absent.

"
— The Guardian